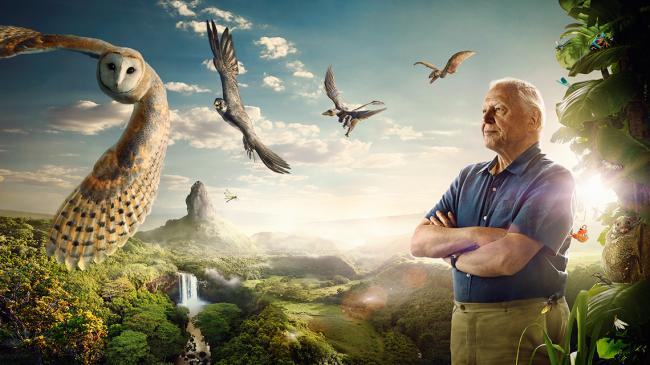 You can watch the behind-the-scenes documentary that I directed for David Attenborough's latest series, Conquest of the Skies, at 9pm on Thursday, 15th January on Sky 1 HD.
The hour long show was fantastic fun to make, and involved following Sir David's journey for over a year as he made the series. I self-shot the programme on a Sony PMW-300 (along with an army of go-pros) in a range of challenging locations – from a freezing Loch Lomond in Scotland to the depths of the Malaysian rainforest.
One particular highlight was filming with cameraman, Paul Williams, as he launched into the abyss, 200 feet in the air above the opening to Gomantong Cave in Borneo to capture the exodus of over a million bats as they left the cave at twilight.
Slightly less edifying was shooting sequences in the cave down below where Sir David had the honour of filming among one of the largest concentrations of cockroaches in the world – all of whom feed on a giant pile of bat droppings, twice the height of a two storey house. I am pleased to report that the crew have all since had a jolly good wash.
Having filmed the programme last year, I have since been working in Australia directing the behind-the-scenes sequences for David Attenborough's next flagship documentary series for BBC 1, The Great Reef. The series will be broadcast around Christmas 2015.